Description
• The project Location
• This project is located on the European side of Istanbul, specifically on the Basin Express road, which is the central nerve of the city. It is administratively affiliated to the municipality of Bagcilar, which is one of the fastest growing areas in the city thanks to modern projects throughout the region.
• The project is both an investment and a residential one, in the middle of the Basin Express Street known for its great investment value, which starts from Ataturk Airport and ends at Istanbul's new airport, and this street contains hundreds of hotels, projects and international brands.
• Project features
• This project is very large and contains several sections and towers for commercial offices and residential units, with a hotel and mall belonging to the project, and each tower enjoys special and independent services.
• As mentioned above, the most important characteristic of the project is its presence on the Basin Express Street and adjacent to the largest hotels and international brands, which makes the investment value of the project greater and stronger, and the project enjoys very high services.
• This project is far from
• 10 km from Ataturk Airport.
• 2 minutes from the metro.
• 5 minutes from the TEM highway.
• 4 km from the main road, E5.
• 21 minutes from Istanbul's new airport.
• Project services
• The project is secured 24/7.
• Standard specifications suitable for earthquakes.
• Children's play areas and green spaces.
• A fitness center.
• A private garage for the project.
Jogging tracks and large green spaces.
• Basketball Stadium.
• An indoor and an outdoor swimming pool.
• smart home system.
• A shopping center belonging to the project.
• Project details
• This project is centered on a land area of ​​55,000 thousand square meters that contains 9 buildings and includes a hotel tower and an office tower with a shopping center inside the project with heights reaching 30 floors and it includes 1,200 housing units and 83 commercial units.
• Apartment model from 1 + 1 to 4 + 1.
Detail
Amenities
Air conditioning
Cable TV
Garden
GYM
Jacuzzi
Lake View
Metro Station
Near To Metro Station
Parking
Sauna
Sea View
Security
Swimming Pool
Contact Information
Contact Agent
Similar properties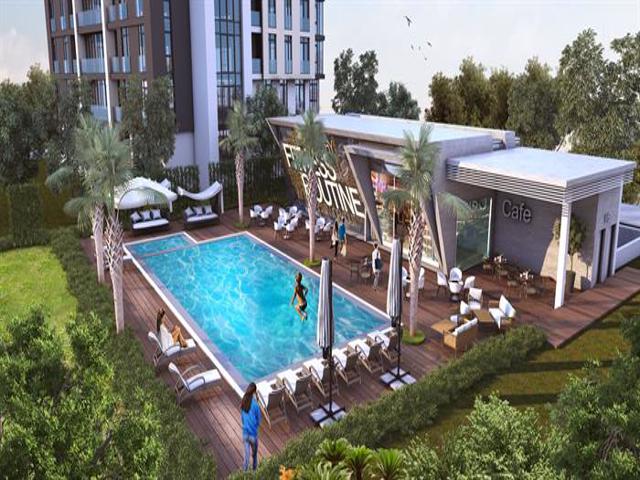 Featured