Description
• The project Location
• This project is located on the European side of Istanbul, specifically in the Esenyurt area, which is witnessing an unprecedented architectural development and modernity compared to some other areas in Istanbul.
• The project is characterized by a unique location, especially as it is located adjacent to the main road E5 in Istanbul and its proximity to shopping centers, most notably the Torium Mall and Marmara Park Mall in the Beylikduzu area, and next to the project there will be its own shopping center.
• Project features
• The Empire Istanbul project is distinguished by its distinguished architecture that blends with the modernity of Istanbul and its ancient history mixed with historical cultures since ancient times.
• The project is also distinguished by its proximity to the Sea of ​​Marmara, and most of the commercial units in this project have a distinctive view of the sea.
This project is far from
• One minute from the main road E5.
• 5 minutes from the TEM highway.
• 45 minutes from Istanbul's new airport.
• 20 minutes from Ataturk Airport.
• 2 minutes to shopping centers.
• 2 minutes for universities and schools.
• 2 minutes from the metrobus.
• 10 minutes from the Sea of ​​Marmara.
• Project services
• The project is secured 24/7.
• Garages for the project.
• Sports salon.
• Children's playground.
• Central heating.
• Turkish bath.
• Sauna.
• Green spaces.
• Project details
• This is a project consisting of 450 housing units in one building with 40 floors, there are offices on the first five floors, houses on the other 35 floors, and shops on the ground floor.
• Apartments vary between 1 + 1, 2 + 1 and 3 + 1
• The project will be delivered on December 2020.
Detail
Reference:

HCC-IST 63

name:

Ziad Sabbagh

phone:

+90 538 372 65 10

Year built:

2021

Type:

Residence

Sold:

No

Contract:

Sale

Location:

Esenyurt

Home area:

66 sqft

Lot area:

88 sqft

Material:

Private

Rooms:

1

Beds:

2

Baths:

1

Garages:

2
Amenities
Air conditioning
Cable TV
Garden
GYM
Jacuzzi
Lake View
Metro Station
Near To Metro Station
Parking
Sauna
Sea View
Security
Swimming Pool
Video
Contact Information
Contact Agent
Similar properties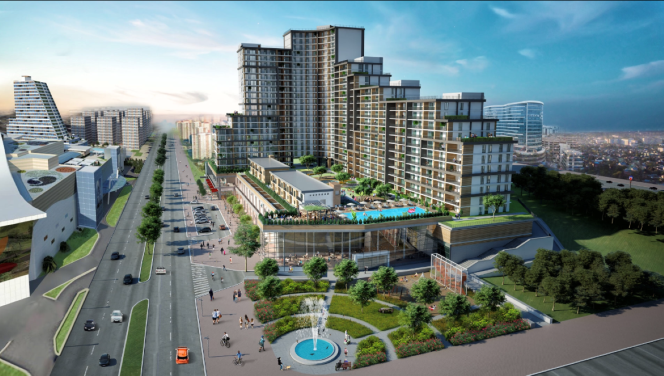 Featured
Featured